(Disclaimer: My video camera / iPhone isn't working very well right now and is generating corrupted chunks in the middle of video files; so youtube product review videos and all videos in general are going to be delayed due to extra-editing and re-filming that has to occur)

First Lolita Desu Purchase!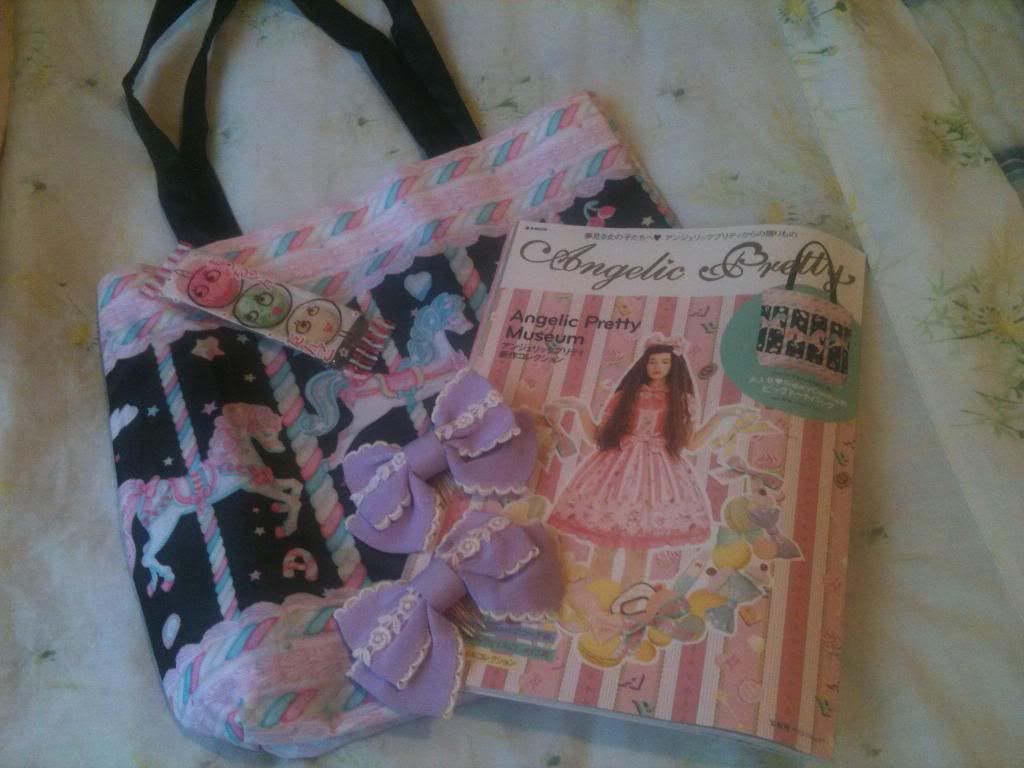 Transaction / Company Overview: Lolita Desu is a simple, clean and straight-forward Japanese-based online Lolita store that sells both used and new Lolita items. They range from "brand" names (Such as Angelic Pretty, Baby the Stars Shine Bright, Innocent World and Metamorphose) to "off-brand" (Liz Lisa, Swimmer and Chocomint) to no-brand-or-company-name-mentioned. They provide both stock photos of items from the original designer as well as their own pictures of every item, along with measurements and other useful information. I had a really good experience with them basically because it was simple and hassle-free. A lot of Lolita will work through independent shopping services in Japan to obtain goods but I keep hearing horror stories about that. In contrast Lolita Desu has an online store with items in stock on display, a very simple shopping cart system and a comment box provided for any special requests or instructions. Having a tracking number attached to your purchase is an additional purchase you must add to your cart before check-out; otherwise Lolita Desu will keep you updated about your package up until they drop it off at the post office where at which point it is un-track-able. I chose not to buy tracking this time because I was already waiting on an un-track-able package so waiting for two within the same week was a reasonable option for me.

Packing: I had heard that Lolita Desu tends to use candy in place of packing material and this was the case with my package. There was a small space that, if left unfilled, would have left too much room for my items to jiggle around and bump into each other. This gap was filled with a plastic-sealed three-pack of small color Mochi, or rice gluten candy, that cushioned everything nicely. I also found the free candy heart-warming in that even when buying used, Lolita clothing can be very expensive and it's nice to get a tiny freebie gift to soften the finacial blow.

Item #1 - Angelic Pretty Pair of Lavender Hair Bows;
Fantastic condition for used; only a slight hint of aging existed, though it was simply because both bows aren't exactly "factory fresh". No damage, no stains, no discoloration beyond a the lace being simply white instead of a crisp bleached white. They were exactly as advertised. The material really surprised me as I have never owned brand before; the ribbon was extremely soft and finer in quality then any I have run into at the craft store or on vintage clothing. Both bows have a yellow-gold metal comb in the back to fasten to your head and were hand-stitched very securely to the ribbon. The lace is equally as soft while also being very well constructed and sturdy in nature. Overall I was most excited when I realized that the bows perfectly matched my vintage 1970s lavender jumper. I had suspected they may match but I was holding off on building up too much hope, but now that it's confirmed I'm really super happy.

Item #2 / 1 of 2 - Angelic Pretty e-Mook;
Brand new soft-cover art / photo book of most of Angelic Pretty's collection from the last several years. Most of all of it is in Japanese and I am unsure about how much of the total collection it represents. The cover is made of card-stock and has a satin-soft finish to it while the interior pages are very thick and hearty for book pages. The images are crisp and the swatches of each print are large enough that you can see all the details. I would really recommend this book to Fans of the brand, Crafty Lolita and Lolita who collect AP and would like an easy-to-carry reference to bring along when shopping for coordinating accessories. I personally am going to use it mostly as a guide for future projects and as a way of easily introducing people to Lolita fashion with a visual aid instead of trying to verbally describe it.

Item #2 / 2 of 2 - Angelic Pretty Sugary Carnival Tote Bag;
This is marketed as the "free" bag that comes with the e-Mook but I would say it's so well made that it counts as half the value of the $30 total price tag for both items. What is really useful is that the bag is packaged in it's own individual plastic bag that is glued to the inside of one of the e-Mook's pages. This means you can separate it from the e-Mook without actually opening the tote bag's packaging. Lolita Desu offers the option to not have the tote shipped with the e-Mook or to not that the e-Mook shipped with the tote. Either way the total cost will remain at $30 so I would recommend, no matter which you really want, to have both items shipped out together as is. If you do not want the tote, you can leave it in it's own packaging and save it as a future gift to give to a Lolita friend. What could feel cooler then giving a friend a brand item as gift and you, technically, got it for free in the first place? Anyway, back to the tote; good-quality fake-leather straps and very roomy. You could fit a few books, a moderate shopping spree or even a laptop in it. I've already used it quite a bit and it seems to be pretty tough for a tote. The print on mine is very crisp and bright, though I have hard conflicting reports about the print sometimes being faded. Mine has a hint, or "shadow" of some other type of print barely noticeable on it but you would never notice unless carefully examining it with reading glasses. Overall I am extremely pleased with my free Angelic Pretty bag.

In conclusion I would really advise anyone and everyone to check out Lolita Desu for a simple, stream-line international shopping experience. I was timid about buying too much the first time around but now I can say with confidence that it's a good, trustworthy business that's totally worth every cent.